Saeyang frezarka marathon handy 700 + bm50s1 -fs60n 2w1* bezszczotkowa
Saeyang frezarka marathon handy 700 2w1*
Marka, która budzi zaufanie
Profesjonalna frezarka od koreańskiej firmy Saeyang to mistrzowskie narzędzie do pracy protetycznej, a także kosmetologicznej. Firma była wielokrotnie nagradzana za wyjątkowe osiągnięcia, zaś jej profesjonalne produkty są polecane przez stomatologów i kosmetologów. Blisko pięć dekad doświadczeń to gwarancja otrzymania produktu o najwyższej jakości.

Profesjonalne rozwiązanie
Frezarka protetyczna Handy 700 oferuje dużą moc 100W oraz cichą pracę. Zapewnia dużą prędkość do 50 tysięcy obrotów na minutę. Praca z tą frezarką jest wyjątkowo komfortowa dzięki temu, iż w mikrosilniku głowicy został zastosowany system redukcji hałasu, umniejszonego o 20% w porównaniu do konwencjonalnych modeli. Budowa bazy jest ergonomiczna, posiada praktyczny uchwyt do przenoszenia oraz pojemnik na głowicę.

Funkcjonalność, którą polubisz
Ma w sobie dokładnie to, czego oczekujesz od najlepszej frezarki. Możesz wybierać pomiędzy sterowaniem regulowanym pokrętłem, a napędem nożnym z wbudowaną regulacją prędkości (w zestawie), co bardzo ułatwia pracę. Funkcja AUTO-CRUISE pozwala w razie potrzeby ustawić rozrusznik nożny do pracy ze stałą prędkością. Bezszczotkowa głowica pozwala również na niskie obroty jak 1000 obr./min. Drugi port oferuje możliwość pracy z kolejną głowicą i sprawną zmianę narzędzia bez potrzeby przełączania kabli. Funkcja autodiagnozy to nadzorowanie prawidłowego działania z lokalizowaniem wadliwego obszaru wyświetlanego za pomocą odpowiedniego kodu na wyświetlaczu cyfrowym. Dołączona podstawka ułatwia zrobienie przerwy i zabezpieczenie używanej głowicy.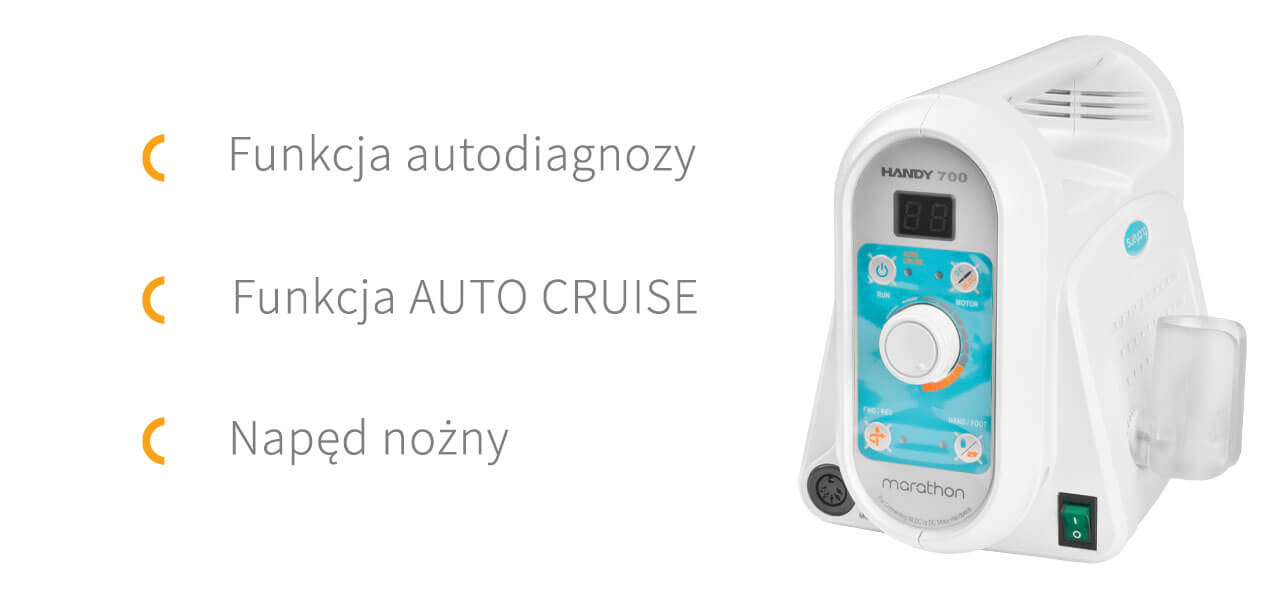 Twist-Lock: Łatwa zmiana frezu
Zapomnij o używaniu kluczyków i trzpieni, rączka TWIST-LOCK to rozwiązanie, które pozwala na szybką i łatwą wymianę frezu jednym ruchem. Skręć w lewo, aby odblokować, poluzować i wymienić frez. Skręć w prawo, aby zamknąć blokadę i zamocować frez.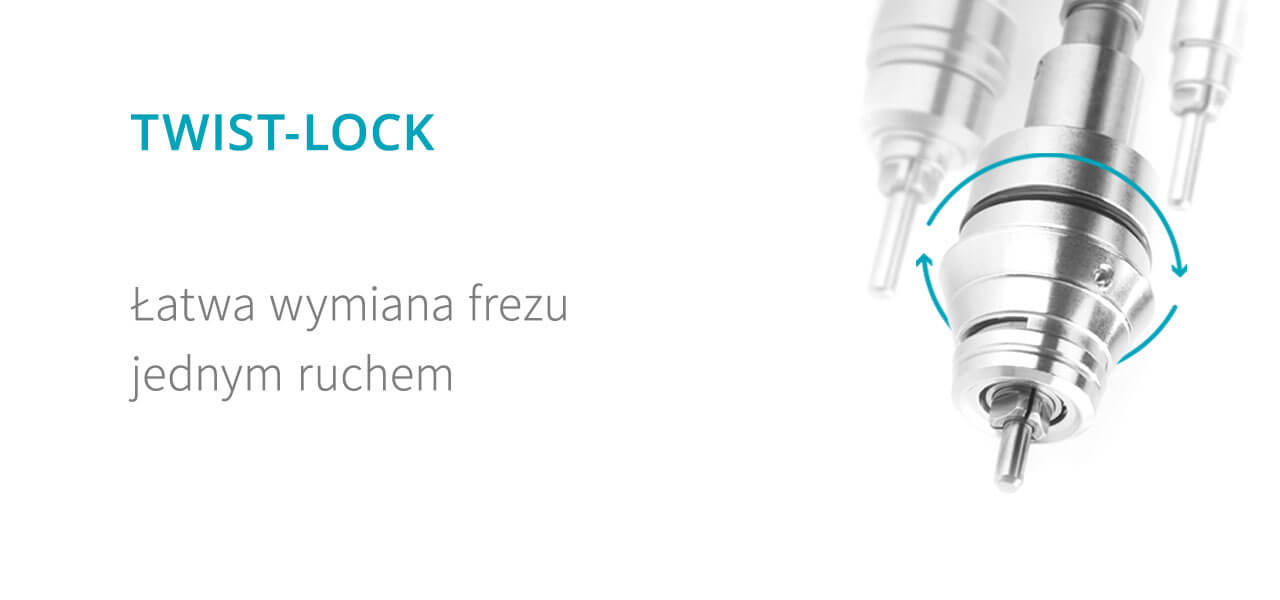 Oryginalny produkt Marathon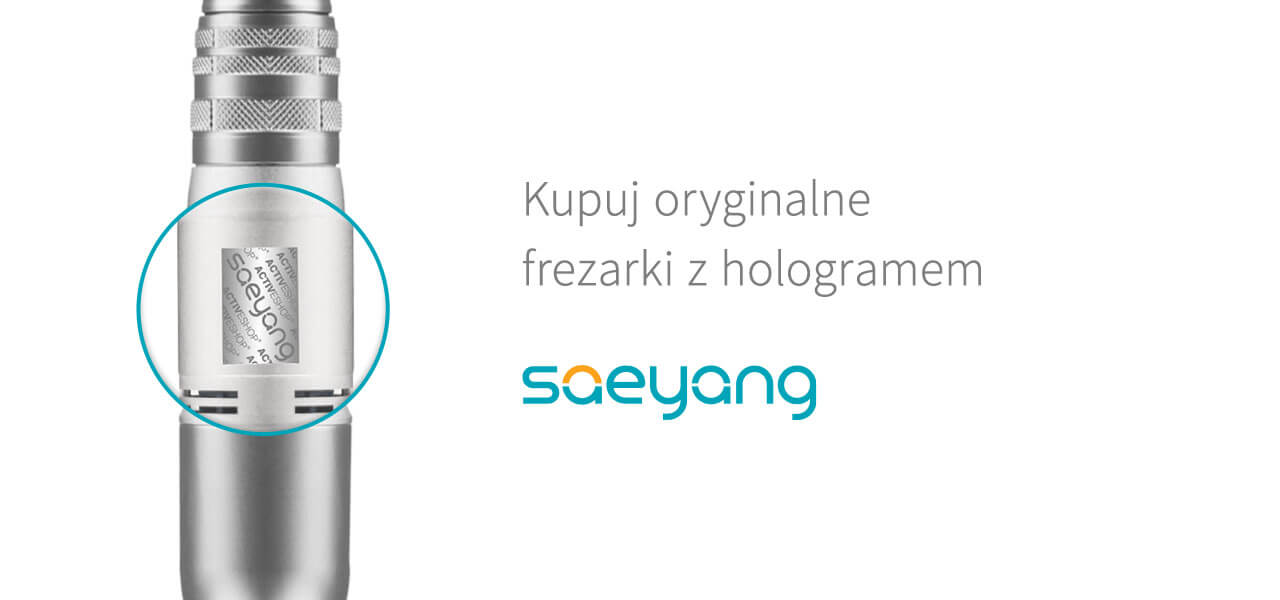 Specyfikacja urządzenia:
Płynna regulacja prędkości od 1 tysiąca do 50 tysięcy obr./min.
Mniej hałasu i mniejsze wibracje
Doskonała trwałość
Funkcja Auto-Cruise
Funkcja autodiagnozy
Baza frezarki umożliwia podłączenie dwóch głowic jednocześnie
Uchwyt do łatwego przenoszenia
Włącznik i regulacja obrotów w bazie
Obroty lewe i prawe
Sterowanie napędem nożnym z możliwością regulacji prędkości
Rączka TWIST-LOCK (łatwe zmienianie frezu)
Czytelny cyfrowy wyświetlacz
Dołączona podstawka na głowicę
Zamienny bezpiecznik i dwa wygodne klucze
Wbudowane zabezpieczenie przed przeciążeniem
Wysokiej jakości kable oraz obudowy
Gwarancja 12 miesięcy
Certyfikat CE

Dane techniczne:
Producent: Saeyang
Moc: 100W
Napięcie: 220-240 V / 50-60 Hz
Wymiary bazy: 232 x 180 x 137 mm
Waga bazy: 2,7 kg
Wymiary głowicy: 159 x 27 mm
Waga głowicy: 230 g
Kraj pochodzenia: Korea Południowa