The Classic File milling machine is used for treating foot ailments and pedicure treatments
Professional device
EXO is a new brand on the market that provides the highest quality products for the cosmetology and podiatry industry. It is distinguished by exceptional care for its products and consistent attention to customer needs.

Functionality and simplicity
The micromotor head allows you to set the speed from 0 to 30 thousand revolutions per minute. The head can be set aside at any time on a silicone stand. Inside the turbine you will find a special filter bag attached. Once full, the filter must be discarded so that the device retains its life. The store offers replacement filters.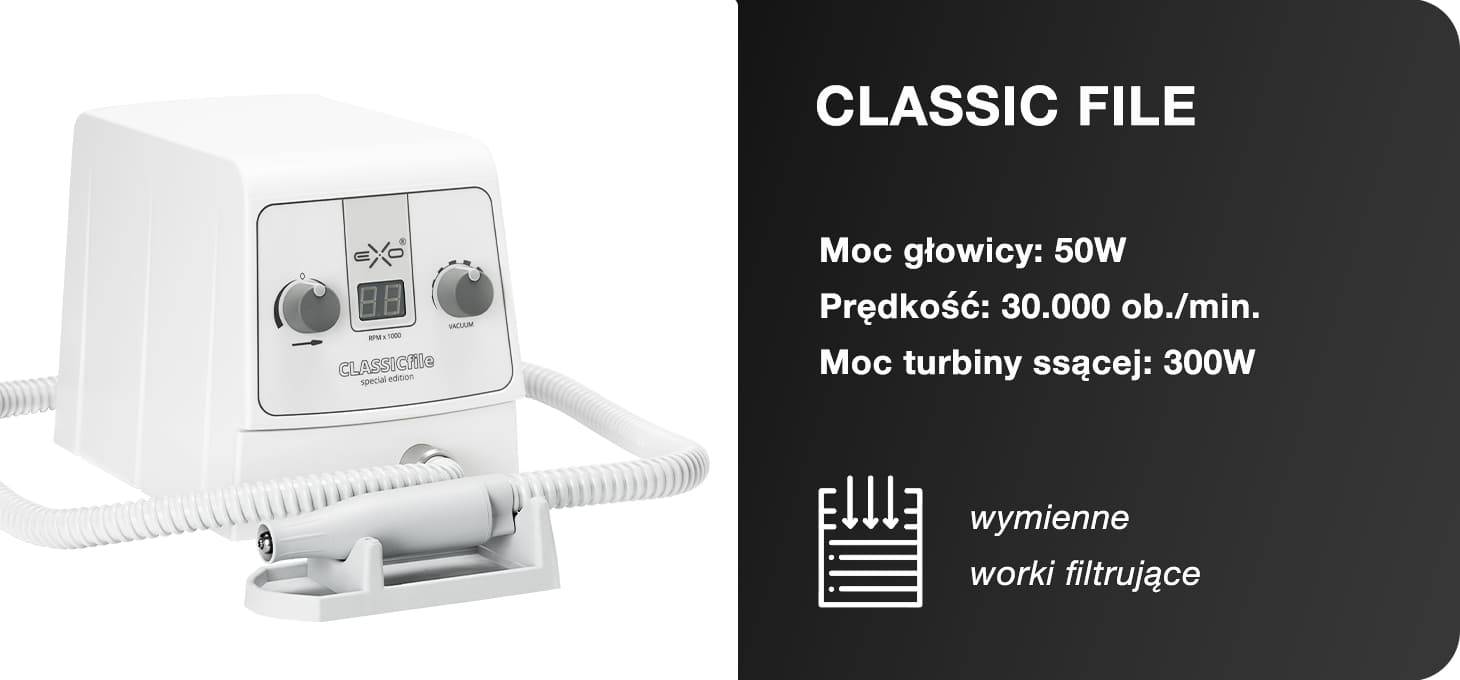 Safety during operation
A milling machine with an absorber is an excellent solution in terms of hygiene and health. It protects the lungs from inhaling all the abraded material. Absorbed dust does not circulate around the room where the treatment is performed. As a result, it will not settle on furniture and objects, where bacteria and viruses that populate the epidermis and nails can breed.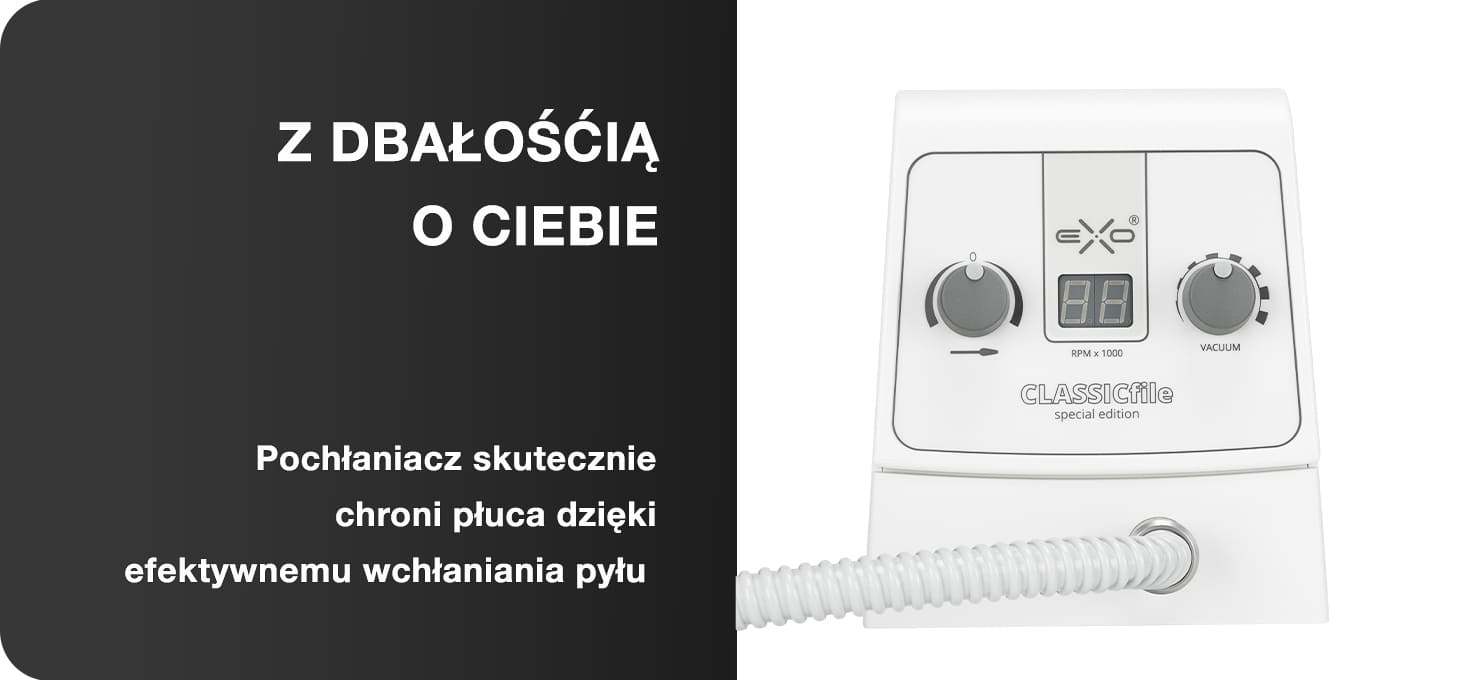 Ease of use
The digital display will indicate the selected speed. The knob on the left is for switching on and off, and for setting the direction of rotation. The knob on the right is to adjust the suction power. Using this milling machine is therefore extremely easy as well as intuitive.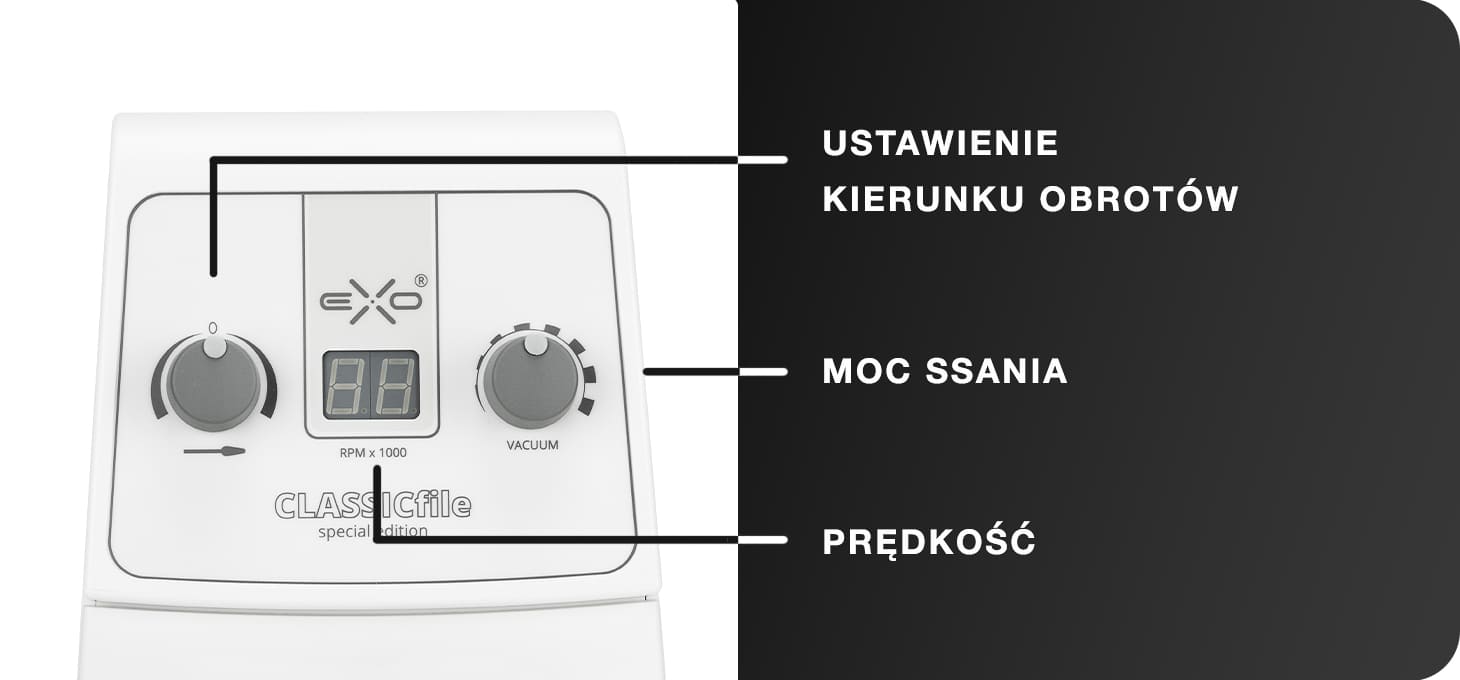 Specifications:
The device is perfect for pedicure and treatment of foot ailments.
Micro-motor head with a speed of 30,000 rpm.
Directional change of rotation
Effective dust absorber
Warranty 12 months The
set includes: control base, head with micromotor (connected to the hose), head holder, cleaning drill for the head, instructions
.
Specifications:
Voltage: 220-240 V/50 Hz
Suction Turbine: 300W
Head: 50W
Volume of the device 57dB-68dB
Micro motor: 5.7 Nm / 30,000 rpm
Absorbed air volume: 295 l/min
Dimensions of the control unit: (L x H x D ) 160 x 185 x 240 mm
Weight: 3.1 kg (set)
Fuse: T2.5 A
Insulation class: 2, type B