Frezarka z pochłaniaczem exo classic file
Frezarka Classic File ma zastosowanie w leczeniu dolegliwości stóp
i zabiegach pedicure.
Profesjonalne urządzenie
EXO to nowa marka na rynku, która dostarcza najwyższej jakości produkty dla branży kosmetologicznej i podologicznej. Odznacza się wyjątkową dbałością o swe produkty oraz konsekwentną uważnością na potrzeby klienta.

Funkcjonalność i prostota
Głowica z mikrosilnikiem pozwala na ustawienie prędkości od 0 do 30 tysięcy obrotów na minutę. W każdej chwili można odstawić głowicę na silikonową podstawkę. W środku turbiny znajdziemy założony specjalny worek filtrujący. Po zapełnieniu filtr trzeba wyrzucić, aby urządzenie zachowało swoją żywotność. W ofercie sklepu dostępne filtry wymienne.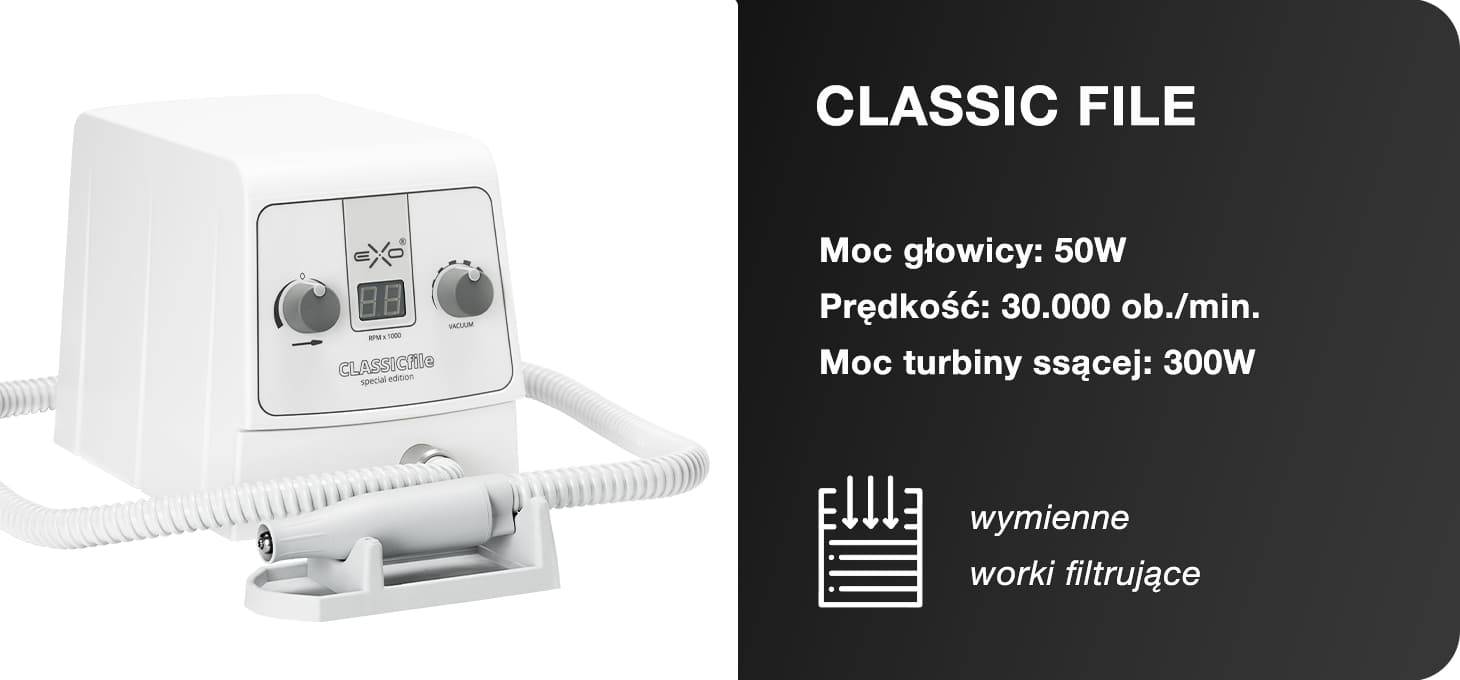 Bezpieczeństwo podczas pracy
Frezarka z pochłaniaczem to doskonałe rozwiązanie pod względem higienicznym oraz zdrowotnym. Chroni płuca przed wdychaniem całego ścieranego materiału. Pochłaniany pył nie krąży po pokoju, w którym wykonywany jest zabieg. Dzięki temu nie osadzi się na meblach i przedmiotach, po których mogą się rozmnażać bakterie i wirusy zasiedlające naskórek oraz paznokcie.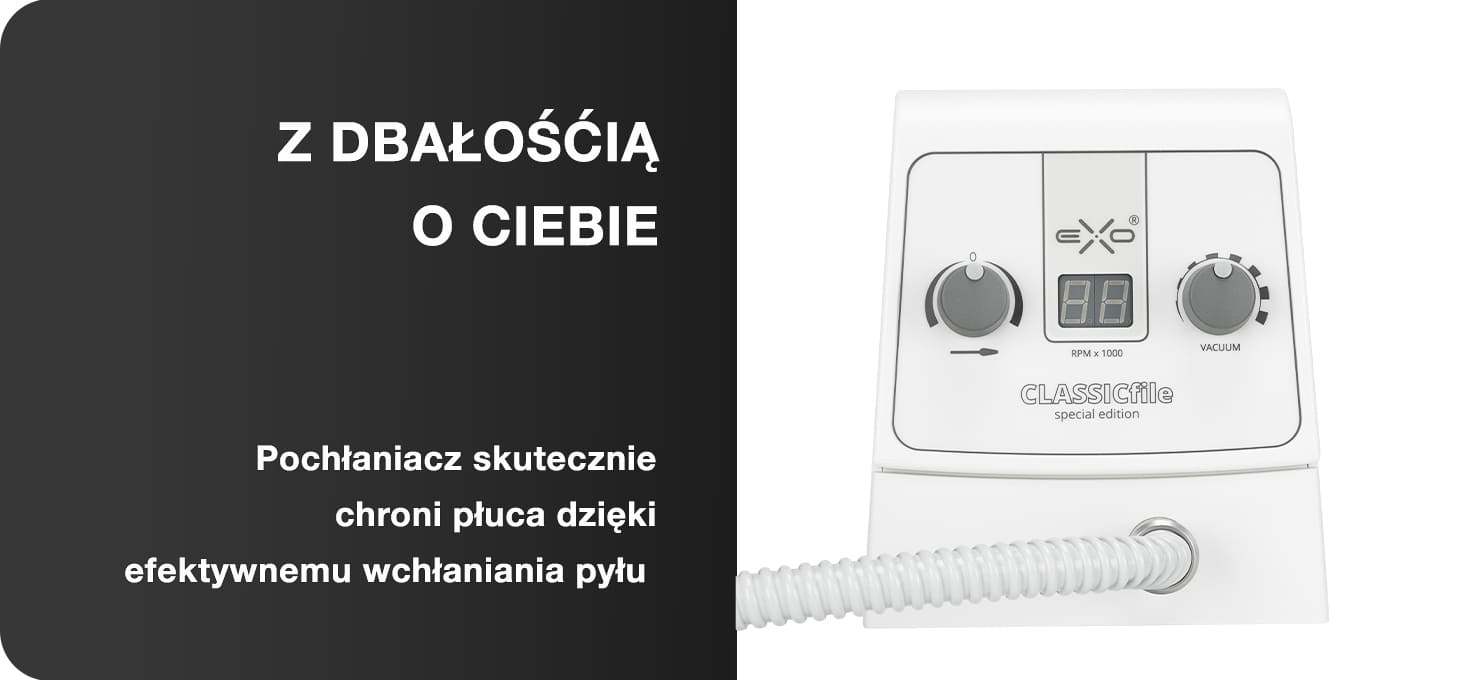 Łatwość użytkowania
Cyfrowy wyświetlacz będzie wskazywał wybraną prędkość. Pokrętło z lewej strony służy do włączania i wyłączania, oraz do ustawiania kierunku obrotów. Pokrętło z prawej strony to regulowanie mocy ssania. Używanie tej frezarki jest więc nadzwyczaj łatwe oraz intuicyjne.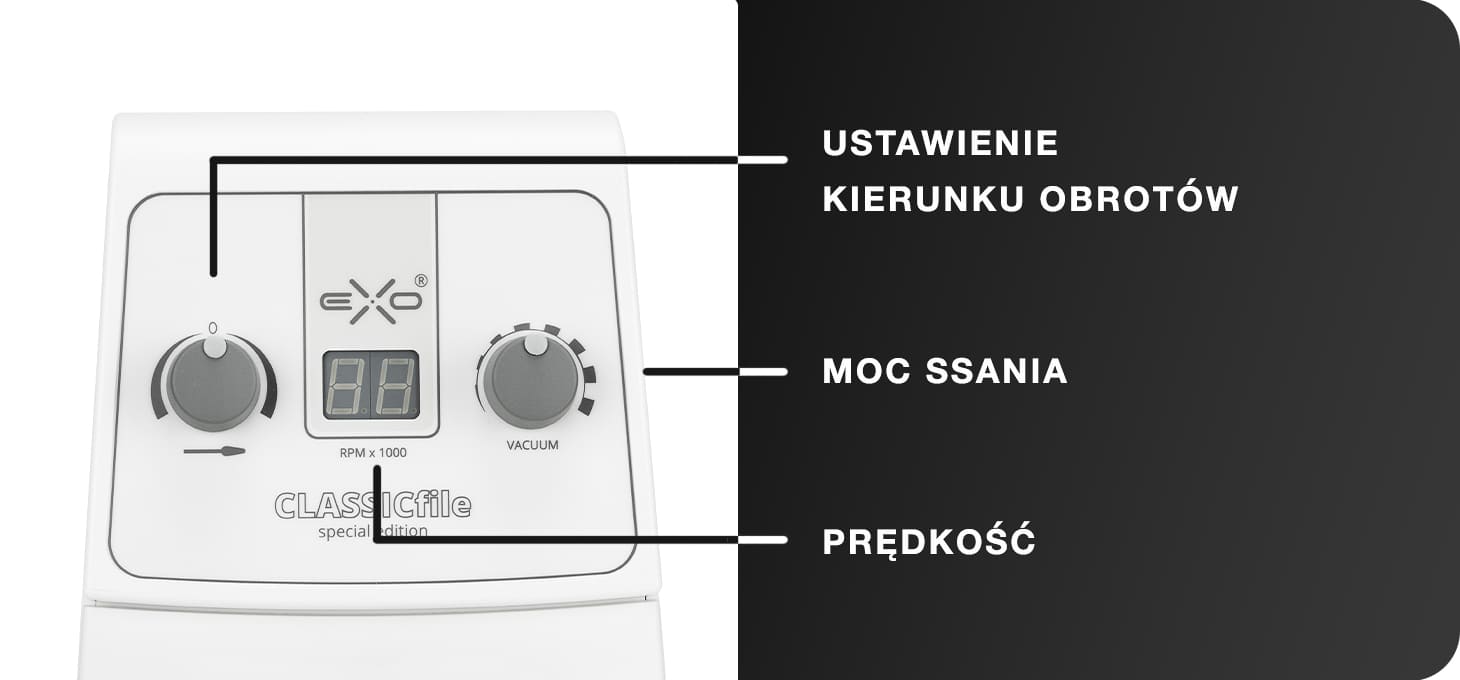 Specyfikacja:
Urządzenie doskonałe do pedicure oraz leczenia dolegliwości stóp.
Opracowane zgodnie z Dyrektywą 93/42/EWG dotyczącą sprzętu medycznego. Gwarancja jakości i bezpieczeństwa.
Głowica z mikrosilnikiem z prędkością 30.000 obrotów/min.
Zmiana kierunku obrotów
Efektywny pochłaniacz pyłu
Gwarancja 12 miesięcy
W skład zestawu wchodzą: baza sterująca, głowica z mikrosilnikiem (połączona z wężem), uchwyt do głowicy, wiertło czyszczące do głowicy, instrukcję.
Dane techniczne:
Napięcie: 220-240 V/50 Hz
Turbina ssąca: 300W
Głowica: 50W
Głośność urządzenia 57dB-68dB
Mikrosilnik: 5,7 Nm / 30.000 obrotów/min
Pochłaniana ilość powietrza: 295 l/min
Wymiary urządzenia sterującego: (L x H x D ) 160 x 185 x 240 mm
Waga: 3,1 kg (zestaw)
Bezpiecznik: T2.5 A
Klasa izolacji: 2, typ B